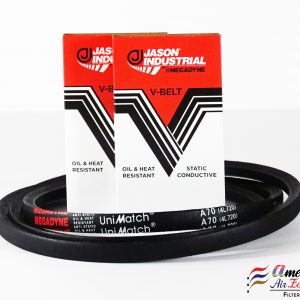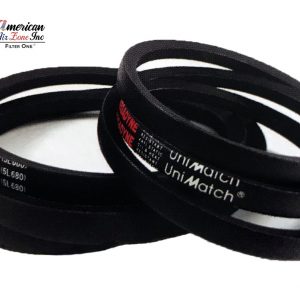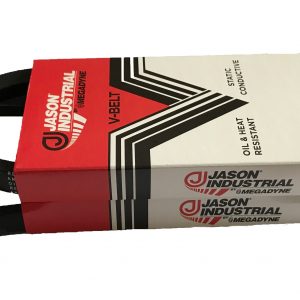 Megadyne Jason V – Belt, A70(4L720), Classical Multi Plus V-Belt, 72" Length – 0.50" Top Width – 0.31" Thickness.
$14.99 – $22.99
MEGADYNE/Jason Industrial is well known name in belts industries in USA and EU markets. The MEGADYNE/Jason Belts are rugged Designed, well Engineered and field tested under strict supervision of experts team.
Megadyne belts conforms to ARPM Standards IP-20 and work well between the temperatures ranges of -22 deg. F (-30 deg. C) to +176 deg. F (+80 deg. C). These belts can survive in harsh conditions, in Oil and has tough heat resistance capabilities.
MEGADYNE/Jason belts manufactured with right materials to out perform the other competitors belts and gives you more efficiency by reducing slippage and will save you in energy cost. Help environment use MEGADYNE belts.
A & B Belts are Dual Marked or Branded to reduced 4L and 5L inventories in stock, less headache and saves you financially.
The Reliable and Quality products with affordable pricing and ample inventories to support our customers need. Do not settle for less, use the MEGADYNE/Jason belts.
Compare
UniMatch Classical Multi-Plus A, B, C, D, E
The UniMatch Classical Multi-Plus V-Belts are designed to perform in tandem in multiple V-Belt drives, reduce slippage and improve the drive efficiency and belt performance. Multi-Plus V-Belts are always matched, easy to install and maintain. The Multi-Plus V-Belts comes in complete range of sizes, are anti-static, offer oil/heat resistance and meeting ARPM standards. Dual Branding or Marking for A & B belts allows to reduce costly 4L & 5L inventories and easy operation.
Features & Benefits
A. UniMatch Construction: Consistent performance in multiple V-Belt drives, ensures all belts must measure within ARPM matching standards.
B. Dual Branding: A & B belts with Dual branding with Classical and FHP parts numbers to reduce stocked inventories.
C. Oil & Heat Resistance: Durability in tough environments.
V-Belts Materials
Compound: Natural Rubber/SBR
Cord: Polyester
Cover: Cotton/Polyester Blend
Technical Info
Applications: Extraction and Exhaust Fans, general HVAC Equipment
Engineering Std: Conforms to ARPM Standard IP-20
Temp Ranges: -22 deg F (-30 deg C) to +176 deg F (+80 deg C)
Recommended Pulleys: Use pulleys made to ARPM Standards.
| | |
| --- | --- |
| Qty/Pack | Pack of 1, Pack of 2 |